Wasatch Mountain State Park offers snowmobile trails near Provo UT that truly are one of Utah's most unique scenic treasures. The park, in cooperation with the U.S. Forest Service and Utah Department of Transportation, provides facilities for snowmobilers using the canyons of the Wasatch Mountains near Midway and American Fork. Facilities include parking, restrooms, designated play areas, and approximately 70 miles of well-groomed snowmobile trails Provo UT. Warming stations are available at the golf course clubhouse and park visitor center for those using snowmobile trails Provo UT. Wasatch Mountain State Park Golf Course is closed to snowmobiling, but is open to cross country skiing and snowshoeing.
Trail head map with GPS coordinates – After clicking on link scroll down to second page
Driving directions to Wasatch Mountain Snowmobile Trails Provo UT and other local trail heads
Wasatch Mountain Snowmobile Trails
A. Midway Reservoir 4.8 Miles
B. Snake Creek 3.9 Miles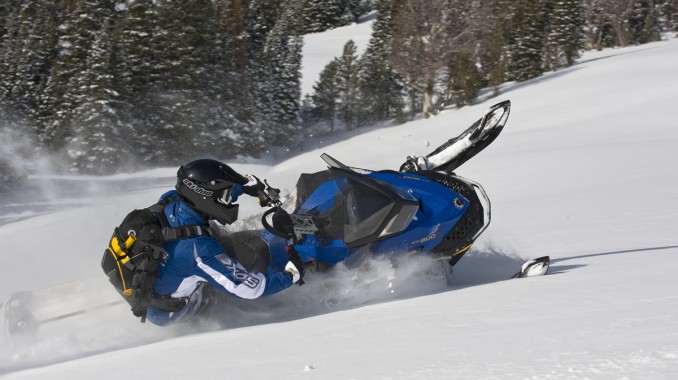 C. Cummings Parkway 8.2 Miles
D. Mill Flat-Tibble Fork 15.7 Miles
E. Cascade Spring 5.2 Miles
F. Mutual Dell 10.6 Miles
G. Little Deer Creek 1.2 Miles
H. Mill Canyon 2.3 Miles
I. Sundance 3.5 Miles
J. Silver Lake 2.6 Miles
Midway Reservoir Snowmobile Trail (A)
This short 4.8-mile spur leaves the Wasatch Mountain State Park campground and travels up Pine Creek Canyon to Midway Reservoir. Beyond Midway Reservoir the trail is ungroomed and crosses private property. Trailhead facilities, including parking in the campground area are very popular, but extremely limited.
Snake Creek Snowmobile Trail (B)
Snake Creek Snowmobile Trail near Provo is accessed from the Heber Valley to the eastern slopes of the Wasatch mountains, and provides an easy mountain ride for riders of all abilities. The trail climbs gradually past the Wasatch Mountain Golf Course and meets with the Mill/Tibble Trail. Deer and wild turkeys frequent this area and maybe observed near the trail. Several switchbacks along the trail open to frequent views of the Heber valley.
Cummings Parkway Snowmobile Trail (C)
Outstanding views of the Heber Valley are available from the top of the Cummings Parkway Trail. Though not a difficult ride, snowmobilers should be aware of the possibility of drifting at or near the ridge line. The snowmobile trail is wide and flat providing excellent mountain riding for beginning riders, as well as more experienced snowmobilers.
Mill Flat-Tibble Fork (D)
This beautiful 15.7-mile snowmobile trail near Draper UT climbs from the Mill Flat Trailhead to the summit of the Wasatch mountains before descending through American Fork Canyon to Tibble Fork Reservoir. Several play areas are located along this steep, but passable trail, providing riding opportunities for riders of most abilities. Beautiful views of Lone Peak and Mount Timpanogos are available as well. Several switchbacks will be encountered on both sides of the mountain, and the possibility of drifting snow from canyon winds should be expected. This is relatively narrow, but groomed regularly.
Cascade Springs (E)
The Decker Pass Snowmobile Trails Provo UT climbs from the farmlands near Charleston past the Soldier Hollow Olympic site, home of the Olympic Winter Games biathlon competition. Views of the Heber Valley and Deer Creek Reservoir are available from the trail. The wide and relatively shallow grade of the trail makes it an ideal mountain ride for riders of all abilities. Near the junction of the Decker Pass and Cummings Parkway trails is Cascade Springs, a series of natural cold water springs that surface and pool in the canyon.
Mutual Dell/Sundance (F/I)
Mutual Dell Snowmobiling Trail near Highland UT and Sundance Snowmobiling Trail near Provo UT cross the foothills of beautiful Mount Timpanogos via a series of steep and sharp switchbacks. This is true Utah mountain riding as the trail winds through the tall pines and aspens characteristic of the area. Both trails provide access to the complex from well-maintained trailheads on opposite sides of Mount Timpanogos.
Snowmobilers using Snowmobile Trails Provo UT are urged to telephone the
Avalanche Forecast Center for updated snow
conditions and weather information before
venturing into the backcountry.
Salt Lake City…………………801-364-1581
Ogden…………………………801-626-8600
Provo………………………….801-378-4333
Logan…………………………435-797-4146
For local conditions and grooming
information about snowmobile trails Provo UT contact:
Utah Division of State Parks and Recreation
1-800-OHV-RIDE (1-800-648-7433)
801-538-7433 ( Salt Lake City area )
Utah Department of Transportation
Road Conditions 1-800-492-2400
Uinta National Forest
Heber Ranger District
435-654-3563
Pleasant Grove Ranger District
801-785-3563
Mountainland Travel Region
801-229-3800
We hope this helps you find Snowmobile Trails Provo UT to enjoy!