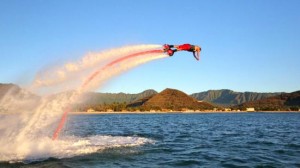 The Flyboard Rental in St George UT has a personal jet pack that mounts to your feet. The water pressure created from a PWC (Personal Watercraft) is redirected through a 55 foot hose that splits into two nozzles right beneath your feet that are pointed down, creating lift. There is a detachable rotating main bearing directly beneath the Flyboard which allows the Flyboard to spin freely around the supply hose. From there, it's just a matter of learning to fly!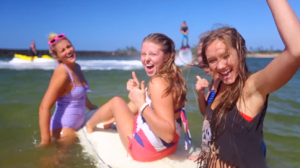 Pricing:
$500 – 1/2 Day (8am-2pm or 2:30-8:30pm)
$1,000 – Full Day (8am-7pm)
Price includes Sea-Doo & FlyBoard
Damage Waiver is mandatory on half & full day rentals.
$50/day -Sea-Doo and FlyBoard (The damage waiver covers the renter if any damages over $500 occur on the Sea-Doo or $500 on the FlyBoard)
At time of pick up there is training and a few short videos that are mandatory for anyone that will be operating the personal watercraft or using the FlyBoard. Please plan for approximately 30 min of training.
HOW HARD IS IT TO USE?
This is the most common question asked. The FlyBoard is very very easy to use and the average person can be flying within 10 minutes having never used the board before. Anyone that will be operating the FlyBoard or operating the PWC (Personal Watercraft) powering the FlyBoard will need to go through training prior to entering the water. The first thing you will do after entering the water is bring the Flyboard under your feet and the PWC operator will give you just enough power to bring the board to the top of the water looking like you are standing on the water. Once you feel comfortable there the PWC operator can raise you 3-5 feet out of the water and you can start maneuvering around the PWC. That's it, your flying!
Please see our FlyBoard Requirements and our FlyBoard FAQ's for more information.
Flyboard Rental Areas
Flyboard Rental Sand Hollow Reservoir UT
Flyboard Rental Quail Creek State Park UT
Flyboard Rental Gunlock State Park UT
Flyboard Rental Lake Mead NV
Flyboard Rental Lake Powell UT
Flyboard Rental Lake Powell AZ
Flyboard Rental Bullfrog Marina UT
Flyboard Rental Wahweap Marina AZ

Flyboard Rental Hurricane Utah
Flyboard Rental St George Utah
Flyboard Rental Cedar City Utah
Flyboard Rental Mesquite Nevada
Flyboard Rental Moapa Valley Nevada
Flyboard Rental Page Arizona
Flyboard Rental Southern Utah
Flyboard Rental Washington Utah